I like cooking. I like experimenting with flavors and wee packages for my bentos.
Today, I tried my hand at steamed buns. Easy enough, I've made them before with red bean paste as a light dessert, but today I wanted something more savory for lunch this week. I had a bit of ground pork and a similar bit of ground chicken so why not, right? I found a recipe for the dough and I made up the pork filling on the fly (egg, Worcestershire, parsley, salt). The dough was easy, the construction … well …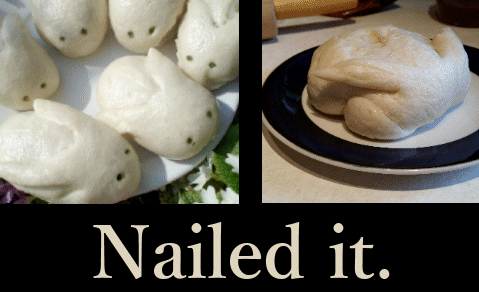 The first one, I steamed. It came out as a Bunny Jabba the Hut
It's really not bad.
I looked over the rest…
and decided I would bake them and the results were a little better.
Relatively,
For the record, they do taste good. They are savory, and when baked, not doughy. They'll be darling in my bentos, this week.
Provided they survive this evening.