About a week ago, while cleaning out the garage for the installation of a new door, my wedding dress was unearthed. Unfortunately like everything else in the place where I live, there are holes where there should be solid construction, and water from years of leaks did terrible things to the lace and satin and tulle. Doug brought it out of the garage and wanted to make sure I was prepared for the devastation, and he even got me a bourbon before he told me.  He pointed to the box sitting on the back patio and noted with outstretched fingers the bowing and stains and large wetspot beneath the box. He gave me his saddest puppy eyes and said, "I'm sorry, but I think it's ruined."
We knocked back our drinks and marched outside to face the tragedy head on. Peeling back the soak cardboard confirmed the worst – water-stained and musty. The veil is undamaged and who knows what I'll do with that, but the dress will never walk down the aisle again.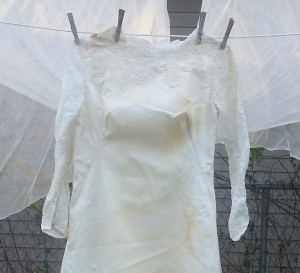 Before you get too sad about my wedding dress, you have to understand that I never actually wore it. Back in 1993, I received a box load of clothing from a friend in Nashville, and where he got them from I neglected to ask, or I fail to remember. In the box, along with a heavy woolen cape, was a boxed wedding dress, fitted size seven complete with satin bow and veil..
Back in 1993, a size 7 was easy peasy, with only a tiny bit of tightness and I promised myself I would wear it one day to my own wedding. I would pull it out over the next three years to see if it fit, and I finally got the chance to wear it for reals in April of 1996. I bought shoes and underthings to match. Because it had grown a little dingy from being out of the preserved box, my mother offered to have it professionally cleaned for me. It was a bit of housekeeping I greatly appreciated, since I all of our money was being pumped into the trip out west. I left it in her capable hands.
Mother used a dry cleaner she trusted, but unknown to any of us, they actually sent very delicate items to another dry-cleaner out of state. The Friday before we left, it still hadn't made it back to the original cleaner and they assured her the dress would be forwarded to our hotel, Binion's Horseshoe in Las Vegas, and would greet us upon our arrival.
We took the train to Vegas, a route that sadly no longer exists and leaving on Monday April 7, 1996, it was two and a half days of relaxing and chatting, and being excited. On Wednesday, April 10, when we checked in, there was still no dress. Mother was beside herself. Doug and I decided to go shopping for rings at the local pawn establishments while Mother put on her best righteous indignation and rang the drycleaner.
When we returned with two shiny rings, she broke the news to us– the dress was nowhere to be found. The Wedding Dress drycleaner had returned the dress to Detroit the previous week, and it should have arrived in more than enough time for our trip. No one could track it down.
My dress was gone.
I was in Vegas, two days before my wedding and I didn't have a dress. I also had nothing I wanted to be married in so I was at a loss.
I shouldn't have worried. It was Vegas, and since you couldn't swing a dead cat without hitting a chapel OF COURSE you could find someplace to rent the dress at the dead last minute.
Enter San Franscico Sally's. There isn't a website that I can locate, but it's still there and now it has a wedding chapel (duh). For the low-low price of $175 (which incidentally was the price of my prom dress 6 years prior) this lovely beauty: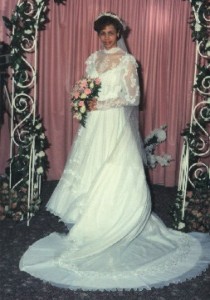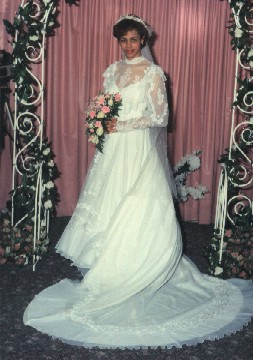 The cost was covered by the dry-cleaner who felt just terrible, convinced my day was ruined, but honestly the day didn't feel any less special in a dress that wasn't mine.
So who knew there was a Detroit, Maine – certainly not I, but that's where the dress ended up. Remember, this was in the days prior to Address Verification, and all of the carriers sent parcels first to the zip code and let the local carriers sort it out. The dress made it's merry way back a few weeks after we returned from California. It migrated from beneath the bed, to in the closet, to high on a shelf in the garage, where I was sure it'd be safe from nesting critters. It wasn't nature but neglect that ruined it.
So now I have this dress I have no chance of gettingt into – I mean, it was tough before the Boob Fairy whacked me in the chest – but I'd like to salvage it in some way because it's still my dress, rust stains, moth holes, and all.
Now I'm entertaining ideas on what to do with it. Pillow, purse, dye it a lovely crimson, royal blue or deep purple?
What would you do with a dress you couldn't wear but was ultimately too sentimental to simply toss away?