So the husband is visiting family for the weekend and I get to eat ALL THE THINGS.
Tonight's culinary foray is something I wasn't even sure I was going to like. I can't remember if I've ever even had rice pudding much less if I was going to like it. Life is risk, right?
Moot point now because this is definitely getting added to the dessert repertoire. This is a rich, thick, sweet concoction and I'm glad there's so much because now I have breakfast! You can probably use regular long-grain white rice, but I like the texture of Arborio, and when indulging in somethings decadent, texture adds to the experience.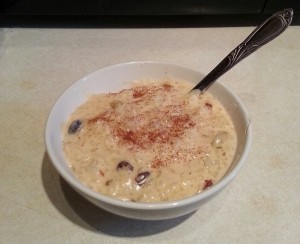 Arroz Con Tres Leche
Cuisine:
Mutt (Mexican/Italian)
Author:
Prep time:
Cook time:
Total time:
Rice, creamy rice pudding with rum and raisins
Ingredients
2/3 Cup Golden Raisins
1/3 Cup Raisins
1/3 Cup Dark Rum
7 Cups of Water (yes, seven cups)
1 Cup Arborio Rice
1 Cinnamon stick
1 (12 oz) can Evaporated Milk
1 (14-oz) can Condensed Milk
1 Cup Whole Milk
Instructions
First we have to get our raisins drunk, so mix them with the rum and set them aside. To keep you from sipping the bowl put a little plastic wrap over it and ignore it. Don't worry, you'll be busy for the next hour.
In a nice big pot add your water, rice, and cinnamon stick, and bring it up to a boil on medium-high heat. No need to cover it, just let the rice get tender for about 18-20 minutes. By now most of the water should be gone, but you'll need to strain the rest of the starchy liquid out and you can toss the cinnamon stick. I suppose you could save it if you wanted, but that's your call.
Back in the pot goes your rice and here's where you add your tres leches (your milks, if I've lost you somewhere). It's also when you stop leaving the kitchen because it'll need your constant attention from this point to keep from scorching. Bring everything to a slow boil on medium high heat – and by this I mean when everything starts getting a little bubbly and steamy. Turn it down just a tick and stir.
And keep stirring. Walking away means scorched milk and rice and no one's going to eat that. The mixture will begin to thicken and should you wander off because you absolutely must see the Final Jeopardy question, you may get a little skin and brown flakes from the bottom of your pot. It's fine. Really. You had one job.
It'll take about 15-20 minutes to thicken with all of your stirring and now finally we can add the rum and raisins (huzzah!). Add it all, raisins and liquid, and keep stirring for another 5-10 minutes to let everything warm up and incorporate. There's no need to keep it on heat until it's thicken to your liking because it will do that as it cools. You want a pudding consistency, not spackle.
Take it off the heat and from here you can spoon it into bowls allow it to cool in the fridge before before serving (I dunno, some folks like it cold) or super carefully, horde your portion to the couch and put on a horror movie and eat immediately.
That's what I did, anyway, and the lousy movie didn't detract from the marvelous flavor – sweet, a little spicy from the cinnamon, and certainly not a heavy rum flavor.
Serving size:
1/2 C
Calories:
528
Fat:
11.7g
Saturated fat:
7g
Carbohydrates:
87.8
Sugar:
58.1g
Sodium:
174mg
Fiber:
1.8g
Protein:
13.2g
Workable? Delicious? Let me know in the comments.