If anything takes forever, it's the presentation, not just for the photo, but for me – because who wants to open a sloppy bento?
While assembling this morning I imagined what it would be like to be filming the prep, cooking and assembly (remember Herman's Head -yeah, that's me but with interesting people fascinated by what I'm doing all the time). At one point when I was rinsing the noodles for the third time, my inner editor said, "don't sweat it, we can edit this part out." I looked up into the kitchen curtain, where the imaginary editor would stand, apparently standing in the alternate universe space just behind my sink but in the window wall and said, "No, this is the part that's gold."
Out loud.
I turned to Pumpkin who hangs out in the kitchen just so I can trip on him and said, "Mumma's going crazy."
I then imagined Pumpkin twirling a recently licked paw saying, "keep it moving, we're losing daylight."
I will only greenlight a YouTube series if Pumpkin can be the director. My terms are firm.
I pulled out the Lucky Cat bento today. I am feeling a little lucky, so let's see where this takes us.
Udon noodles, marinated beef, sauteed spinach, sweet peppers, quail eggs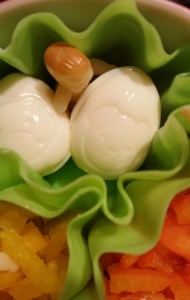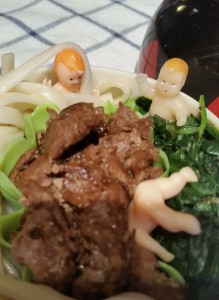 For the confused:
What am I doing?
For those just joining, this is my challenge for the next 40 days (Ash Wednesday until Easter). I document these (M-F) days leading up by making healthy lunches every day. You'll know what day we're on by how many Plastic Babies are present.
You can also follow me on Instagram and tumblr.