The Scouting Trip to New Orleans (Bring Your Comfortable Shoes)
New Orleans is one of those fabled towns people talk about visiting. It has its own history separate from other cities, and a magic that thrums throughout the streets day or night. I finally got a chance to visit that city (and I'll be able to write it off as a business expense!) during the middle of January and I can't wait to go back. The purpose was indeed business related as we scouted locations for Over/With (I'll never stop being thrilled saying that).
Along for the ride was my producer, Carlos Samudio (of Looknow Studios), my Sound and Still Photographer, Frank Papa III, and my lead Actor, Oryan Landa. Better traveling companions I could not have asked for.
Carlos was there because he's in charge of the important stuff like permits and permissions. Frank was there because having a second professional opinion (second to Carlos, I don't know what the hell I'm doing) was invaluable. Oryan claimed he was there for the free trip, but I believe conversations with him helped the most because I was able to see this broken character of Guy as a person with real motivations. That may sound strange since Guy is entirely my construct, but how he acts in my head or on the page is nothing compared to being asked point blank range what exactly is his problem and hearing "his" become "my" and seeing that glint of understanding  when we got down to the meat of the story.
Here's the link to the photoset on Flickr: New Orleans in Selected and Out of Context Photos. You may amuse yourself at your leisure, but here are some highlights:
Friday I arrived about 11am and got settled at the Fairchild House. Beatriz (yes, that's correct) the Owner/Manager was friendly and attentive, and I'm not sure what the egg and bread dish was served on Saturday morning, but I was sad I didn't have the presence of mind to steal the whole plate back to my room. My room (#11) was neat and comfortable and just to be sure, I avoided anything on cable having to do with ghosts or hauntings. I'll save that nonsense for the return trip in June.
I had time to kill after check in, so after glancing at some maps and making sure my phone was good and charged, I took a walk to Lafayette Cemetery #1.
There are more photos from Lafayette in the Flickr set. Needless to say, I could have spent all day just wandering. The history, stoic grief, the individuality around every corner made the entire experience a tangible companion.
Eventually my companions arrived from Austin and got themselves settled in a nearby hotel, so after freshening up, I made my way towards the Convention Area. I could have taken a cab, but really why? It was 12 blocks and it was a nice day.
New Orleans is very walkable. I probably put about 15 miles over the course of the weekend. We got to scouting, taking in the alleys and abandoned warehouses of the Warehouse District,  imagining scenes, and getting a feel for what we'd need. It was still pre-dinner and the streets weren't as crowded as they'd be later so we were able to take our time and have a good stroll.
We grabbed a bite at The Corner (just okay), walked to the Mississippi River (huge), and hit a Cigar Bar (hand-rolled), eventually landing at Pat O'Briens, where we sat next to Guy Ritchie and his lovely pregnant girlfriend, Not-Someone-I-Know.
We made a herculean effort to be very cool and he pretended he wasn't part of our conversation so no one felt awkward. Frank, Oryan and I talked movies and I'm fairly sure we sounded intelligent. Guy (Ritchie) eventually left, having gleaned all of our moving-making advice, and we fondled the chair where he sat, which wasn't creepy at all. When Carlos rejoined us we spoke in flailed hand gestures and loud stage whispers about the experience, and then took a very dark picture, because we are so very artsy.
We then hit  string of bars (hello, OZ) and discovered the uninhibited vitality of the Red Light District. As Carlos and I are old, we called it night about 11:30pm. The kids stayed out much later and bless their bloated livers.
Saturday saw me up very early (refreshed!) so before breakfast I took in a few miles and enjoyed the beauty of the Garden District. After breakfast at the House, I availed myself of sprawling front porch and with hot coffee and notebook and jotted ideas down as I watched traffic and morning walkers stroll by the front gate. Word got around Fairchild House that a writer/director (ME!) was keeping quarters, so I got to talk about the project with people who seemed very interested and they promised to keep an eye out for it. Even if they don't, it was nice to hear. A few of them stood just a little out of my peripheral vision and watched me write – which was weird. The Fairchild House porch is amazing for writing and drinking coffee, and for about 30 minutes, pretending as if I wasn't being watched. I probably look like someone famous.
The boys finally rousted themselves and we had more breakfast at the Riverwalk Cafe du Monde. We all chose to wear black so the beignets were an Elimination Challenge of plate coordination and careful napkin placement. Oryan and I talked about character development, Frank and I talked scene blocking and the more technical aspects, and Carlos said we'd all be the death of him.
We drove out to Holt Cemetery, New Orleans' only in-ground cemetery for those who can't afford the more expensive cement tombs. What a sight! Handmade tombstones and cairns, hand-lettered signs, boundaries of pvc pipe, and picket fences.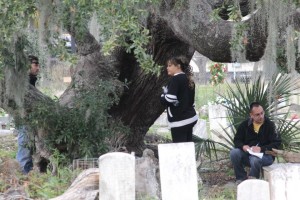 We believe we found the spot where we will shoot in Holt, and if (when) we get our way, we may have a nice surprise on the other side for someone in need. The whole place is both hopeful and heartbreaking, and it's guarded by a rooster. There was an incident with that rooster.
We also hit St Patrick's cemetery next door and were again awed by the cement majesty.
We had lunch at Satsuma's near Bywater with my niece Mariposa and she in turn showed us what was to become our Shop for Auntie. The owners were very receptive to our filming there and I can't wait to get back with a little set decorating. It was exactly what I was looking for. Thank you PopShop! We'll see you soon!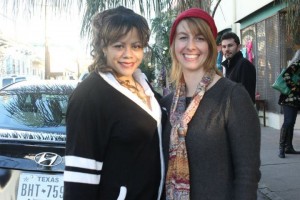 The rest of the evening is pretty much a blur, with us rushing back to get ready  for the Krewe du Vieux. We managed to find a spot to watch at the corner Toulouse and Chartres and all manner of floats I thought I'd never see in mixed company came rolling out. A woman in front of us caught a rather heavy dreidel in the head chucked from a Jewish Krewe float with a banner bearing the words "tearing" and "Uranus".
We took drinks at The Crescent City Brewhouse before catching up with Mariposa (she was very sparkly)  for drinks at Molly's At the Market. Yes, there was a lot of drinking, but we weren't driving and I was in almost impeccable company. We then made our way over to the Royal Street Inn and R Bar for more drinks and socializing with the locals.  If you've been following along on your map, it's a healthy stroll. I walked all of it. In heels and a corset. I am that awesome.
Somewhere around 12:30/1:00AM, we parted company with Mariposa and headed back towards downtown. I walked the gentlemen to Bourbon Street and I enjoyed my walk back to Fairchild, stopping at a place called the St Charles Tavern, where I ordered and enjoyed Crab Cakes Benedict at 2AM.  I live the decadent life. I let myself into the gates one last time, packed for my 10 am flight and slept well.
There are lots more stories about the people we met and the shops we visited and how airport security have no intention of letting you make your flight, but maybe that's a post or a round of drinks for another time. Many thanks to my traveling companions for a most delightful trip full of conversation and drinking and exercise.
I look forward to being down there again.