Mason Jar Ghost and Mummy Luminaries
A relatively quick and easy craft for lighting your way to Halloween using mason jars, cheesecloth, fairy lights, and balloon lights. Here's the thing about Halloween – it can be both creepy and cute, and I love both. For our Annual Halloween Party (open to all, tickets available now), I like to do illuminated centerpieces for the tables, since we keep the hall at appropriate Halloween mood lighting. Also this year they're doing double duty as lighting for my nephew's party Hat tip to
Landeeloo
for the inspiration for the ghosts.  It's just what I wanted – but I wanted mine to light up. You can follow her instructions, or read on for a little left turn. What you need: I've broken up what's needed into stuff I found at the dollar store and what I found elsewhere.
Dollar Store
:
Wood Dowels – I found a 12pc bag of 6" (15.2cm) wood dowels made by Crafter's Square
Ping pong balls (like what is used for Beer Pong). These came as a 6-pack. We want them relatively thin.
6 clear glass jars – pint-sized, mason variety.
Craft/Fabric Store:
Cheesecloth – you can get 36″ x 6 YDS (91.4sm x 5.5m) for about $6.00
Wood Bobbins – for this project I purchased the ¾" x 1" (19.1 x 25.4mm) wood bobbins. By the grace of Bob, the dollar store dowels fit perfectly.
Googly eyes – I sound several packs of the largish (18mm) eyes in the clearance aisle
2 ½" (6.3cm)wide wire-ribbon, or similar width fabric to wrap around the base of the jar
Grocery Store
:
Cheesecloth – because I was terrified of running out
Mason Jars – I used the Ball Mason pint jars because they were on sale, as this is the season for canning. If you want taller, bigger ghosts you'll want bigger jars.
Corn starch – you'll be making your own craft liquid starch which you can jar and use for later
Lights
There are two kinds of lights because they create two different effects. The fairy string lights create an all-over glow while the balloon lights light up just the head.
Miscellaneous
Glue gun
Black Sharpie
The patience of a saint
Make your liquid starch
You'll want to do this first because while you're agonizing over the size of your cheesecloth squares, it will cool. Whisk 1 TBSP of Corn starch into 1 cup of water and bring to a boil (sorry, Metric friends, you'll have to figure out the Queen's math for this yourself). Stirring constantly, boil until thickened to the consistency of pneumonic phlegm. It should be smooth but not chunky. Remove from heat and allow to cool. When cooled completely add about ¼ cup of water and whisk. It should thin it out whatever chunks remain. You want this cooled because you'll be handling liquid-starch-cooled cheesecloth and that's impossible to do when your starch is still molten.
Prep your shapes for Ghosts and Mummies
In the
original instructions
, the ghosts were draped over the wooden balls and dowels. However, since these will be starched to death and will stand on their own, the stands are not permanent. Also, we'll be using the ping pong balls to hold the lights. Insert a down into a bobbin and hot glue it to the inside of mason jar lid. This is to hold the shape while it dries and is temporary so don't go nuts. Glue a ping pong ball to the top of the dowel. If you want your ghosts to have arms, see the
o
riginal instructions on how to place the arms on your form. Remember, the arms don't have to be perfect since they won't be seen, so if you cut or break your dowels unevenly it's no big deal. I was nearly done-in over the cheesecloth squares because none of the instructions I found said how to cut the cheesecloth into what size. I believe for a pint jar, a 6" x 6" square should be fine – that's what I used the second time. Larger jars call for larger squares, but you can do that math on your own. Whatever is leftover can be cut into 2" wide strips for the mummies. Do not completely unroll your cheesecloth or it will be too thin and you'll layering very delicate bits of cheesecloth until Thanksgiving. Each individual piece square should be 2 layers thick, and you want 3–4 squares. On a cutting board (something clean and large that can be taken to the sink to be rinsed), lay down your square and "paint" them completely with the cooled liquid starch. Take a spatula or other flat instrument to flatten and scrape across the surface removing the excess starch. You want them to be saturated, but you also want them to dry before Halloween. My first batch took several
days
to dry, so I speak from experience. Lift up your square and place it over your form, draping it over the arms (if you have them) and setting the cloth the way you want it because that's pretty much how it will dry. Repeat for the next 2 to 3 squares until your form looks like wet cheesecloth draped over a ping pong ball glued to a wooden dowel. It's still conceptual at this point. For my mummies, I took my 2" wide strips and got them equally starch-painted. I set them across and around an upside-down mason jar, making sure all of the glass was covered, but not perfect and I allowed some of the edges to bunch. I only did 1 to 2 layers thick because we want them to be seen when lit from the inside. I set up my ghosts and mummies on my back patio and I dried everything outside on a fairly breezy day, picking them up occasionally off the ground after a lively gust.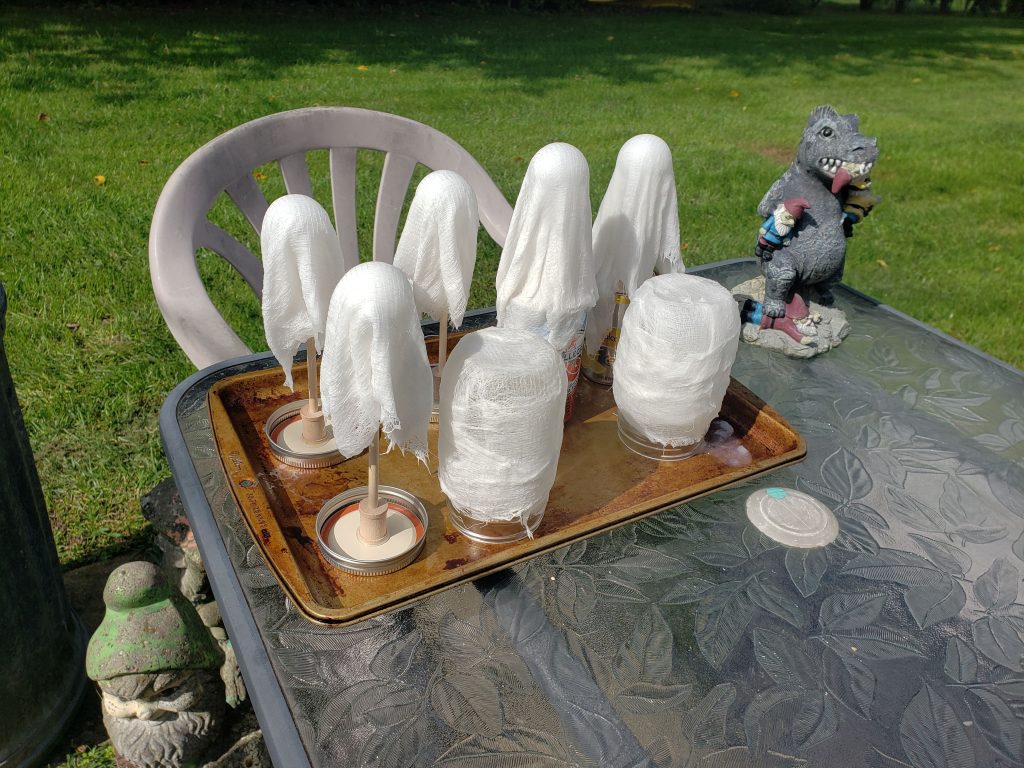 Unless you'll be making more ghosts, you won't need the dowels glued to the jar lids anymore so go ahead and pop them off. Carefully remove the ping pong balls from the inside of your ghosts, and it's okay if you have to open your ghosts a bit. They'll reshape with a little squeeze. Here is where you check you see if you have to do any ghost cutting. Put your newly minted ghost inside a mason jar. You should have about ½" clearance from the top ("bottom") of the jar and the bottom should extend to the bottom ("mouth") of the jar. Where the "ghost" stands will be covered with ribbon
Using your hot glue gun, make a hole in your ping pong ball just wide enough for a balloon light. Don't make it so big that it falls in, but it should be snug. DON'T REMOVE THE PIECE OF PLASTIC ON THE BATTERY – this is important because while the light can last for several days, you're probably not ready RIGHT NOW to light it. Carefully glue the balloon light with the bulb inside the ball and allow to dry. More carefully glue a 6" string to the little plastic piece separating the batteries. If you glue the plastic piece to the battery, you have lost forever and no one will let you craft with them ever again. The string will keep you from completely removing the ghosts to pull that plastic piece when ready – just pull the string and the plastic barrier comes right out.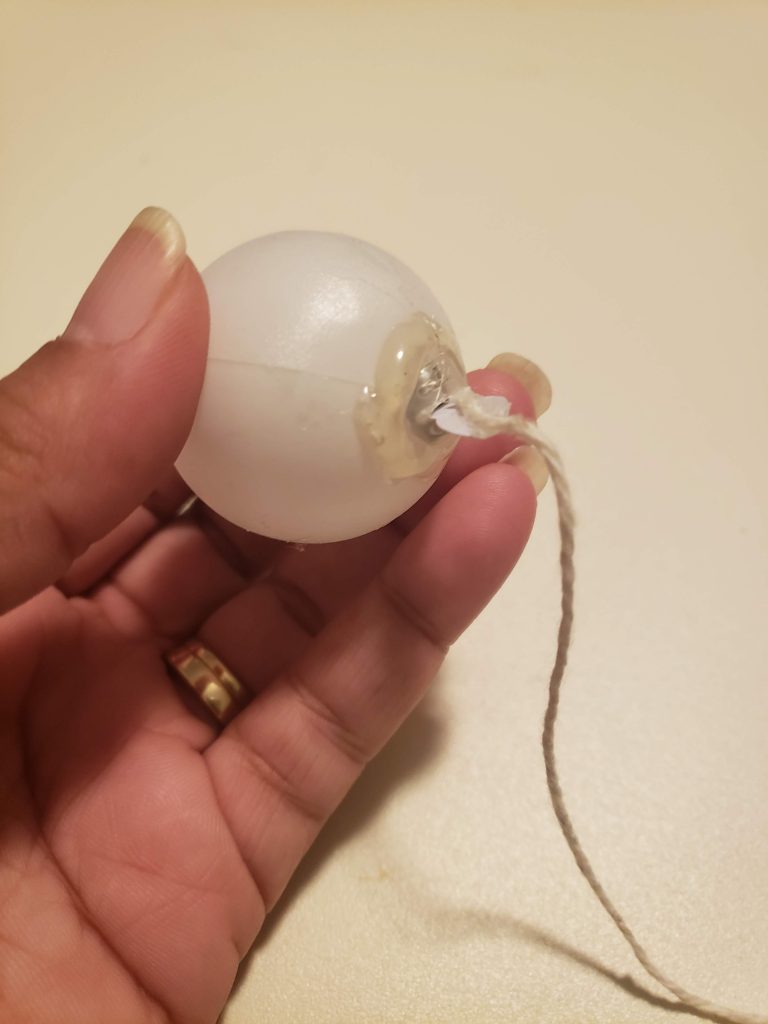 When dry, put the ping pong ball back inside your ghost. With a Sharpie marker, add eyes – and just eyes. Gives them an adorable forlorn look. Put your ghost inside your jar and to give it a little stability, you glue the bottom of the ghosts to the inside lip of the jar. Don't worry, you won't see it.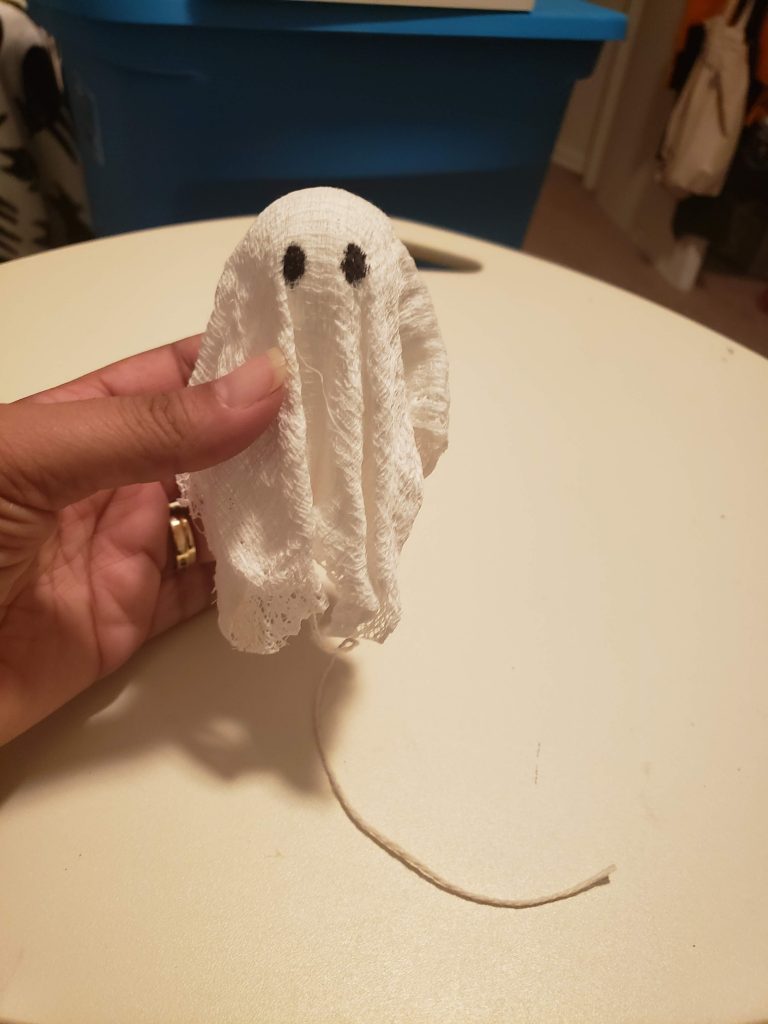 My ghosts also are lit with fairy lights, unwound and bunched into the head and body with the switch hidden inside the ghost.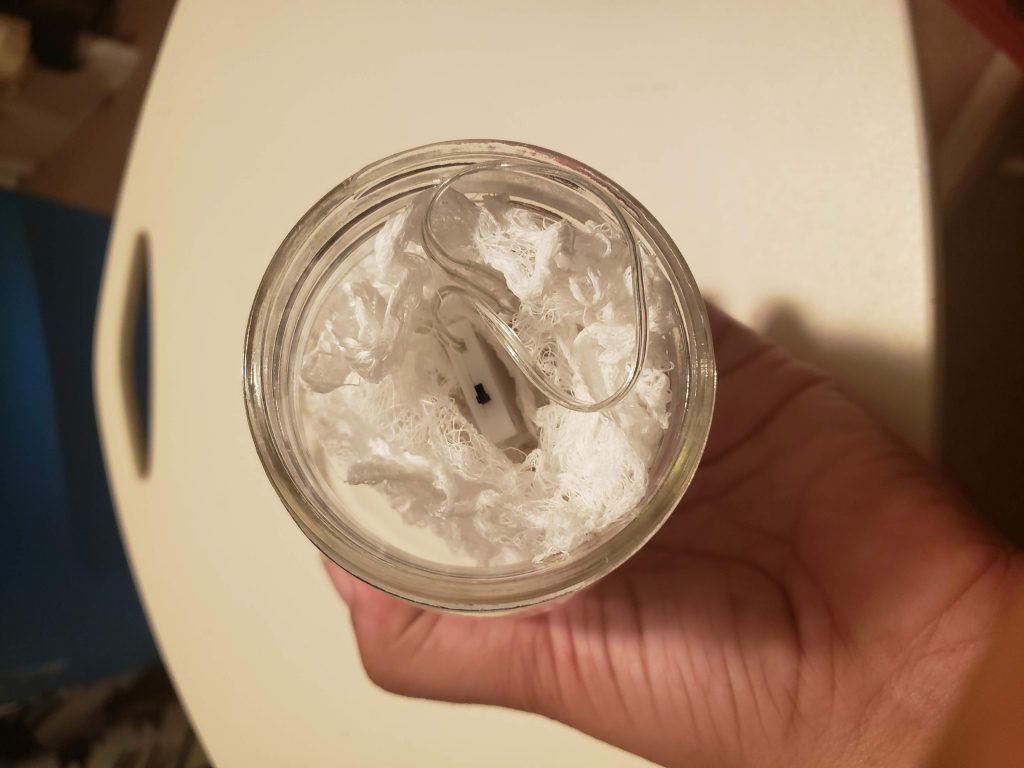 You won't see the very bottom of the jar because we're covering it with ribbon – I used 2 ½" ribbon folded in half lengthwise and glued ONLY to the metal mason jar lid. If you glue it to the jar, it will look silly and I can't save you from that. Unwind and lightly bunch up a string of fairy lights for your mummies, too. For these, you can use a dollop of glue to secure the fairly light switch. Glue on a pair of eyes.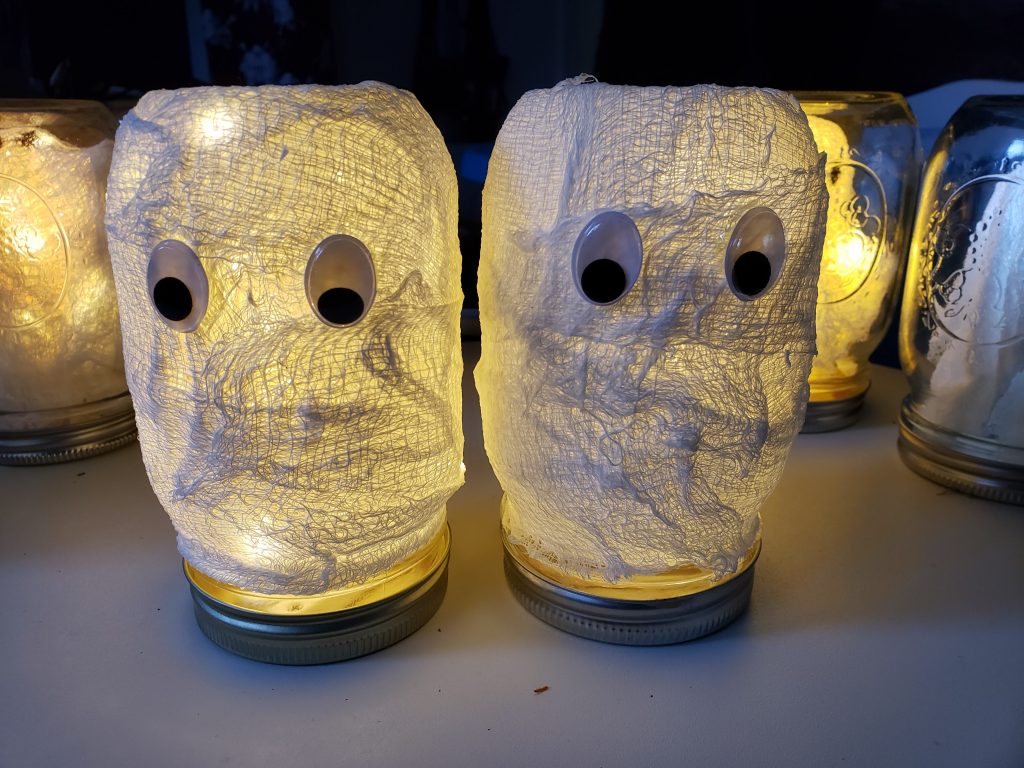 When you're ready, pull your string, flip your switch, and screw back on the bottoms. Your evening is ready for adorably, creepy illuminations.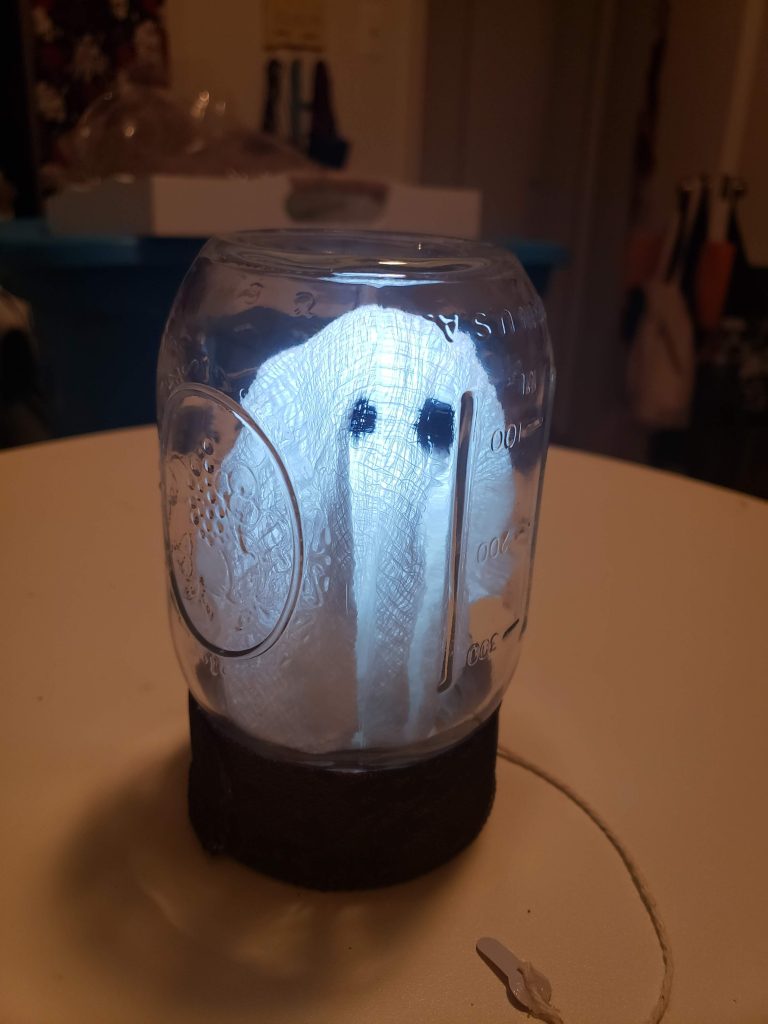 Let me know if you try this and if it works out for you.I've never written a craft instruction before. It's like cooking but with a lot more photos. How cute are your ghosts and Mummies?