I caught a story this morning (@Local4News) about a headstone  – like a cemetery headstone – abandoned at the Southfield Police Department in Southfield, MI. The Parks and Recs Dept is keeping it safe until an owner can be found.
The headstone belongs to a little girl who died over 100 years ago: Maria Eulalia Sahagun, Born December 14, 1912, died June 9, 1914.
The local reporter in this human interest piece (@JasonColthorp) said he did some research on her. He also said he "came up empty."
Her gravestone is on Find A Grave as well as where it used to be and where it (likely) should be now – or at least near there.
People who have seen the story on @Local4News left "flowers", so "came up empty" is a poor choice of words, reporter. Not a dig (heh, punny) just a fact.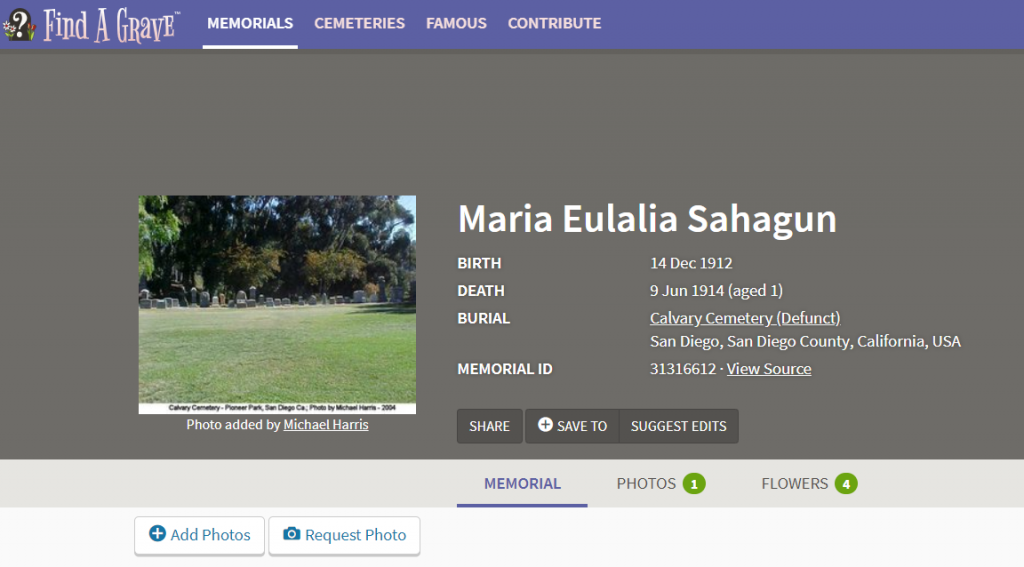 If you follow the link of the abandoned/defunct Calvary Cemetery, you learn that it's now Calvary Memorial Park (San Diego, CA). The headstones were removed but the remains of its former residents are still interred at the Memorial Park.
"Presently known as Calvary Pioneer Memorial Park, this cemetery has been known by various names throughout the years: Catholic Cemetery, Calvary Cemetery, Mission Hills Cemetery, Old Catholic Cemetery, and Pioneer Park."
Further research pulls an article about the headstone memorial within Calvary Memorial Park.
"…in 1968, the Catholic Diocese executed a quit claim deed, abandoning the property."
"In 1968, through a municipal law, San Diego declared Calvary Cemetery to be abandoned and soon commenced to remove and dump the tombstones into a ravine at another local cemetery, Mount Hope."
(An unassuming cemetery in Mission Hills)
This is clearly not the Catholic Diocese's finest hour.
There are roughly 1,510 souls still interred at Calvary Memorial Park. Maria Eulalia Sahagun is still there. Her headstone probably ended up at the bottom of the Mt Hope ravine or int he back of someone's car.
Either way, not a good look, San Diego.
The "trunk of a car" theory is likely, but headstones are heavy and this one doesn't appear small. I can't see the family (especially a Catholic family) hauling a headstone all over the country for sentimental reasons. (screengrab from @clickondetroit webpage).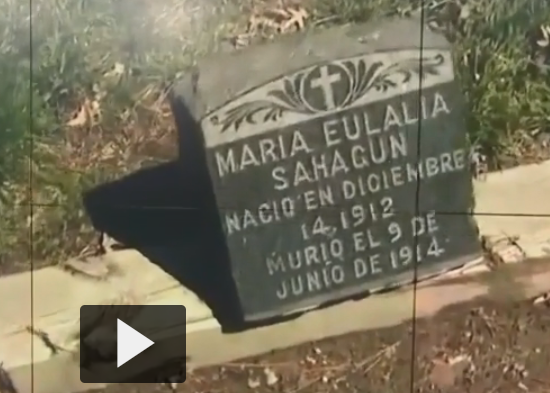 Maria is still buried at Calvary Memorial Park/Calvary Memorial Park, San Diego CA (West Grave, Lot 2, Row 3, Section 4 (Children's Section)). Her headstone is in Southfield, MI.
I'm a horror writer. You can see why this POLTERGEIST-style mystery would appeal to me.
Her parents were Ramon G. Sahagun and Maria Bellarino, both born in Mexico. I don't have any other information on them, but I hope they eventually found peace.
By the way – all of this research took me less than 20 minutes because if I'm going to tell you a story, I'm going to give you the whole story. It's not rocket surgery.
I've contacted some folks at a San Diego archive, so hopefully, they can assist on getting little Maria back where she belongs.
I swear folks, if you want poltergeists, this is how you get poltergeists.