So yes, that is my group you see advertised on CW50 Community pages, because we really are about giving back to the City we love.
Join the Great Lakes Association of Horror Writers for an afternoon of conversation centering around the creative side of the writing process. Outlines? Prompts? Contests? Is writing really like opening a vein or sipping from the great pool? In the Historic Old Fine Arts of the Main Branch of the Detroit Public Library, there is no perfect setting for the exchange of inspirations. See how the pros handle BISHOK and hear how they conquer challenges like NaNoWriMo (a writing contest), the collaborative effort, commissioned work, and more.  Guest speakers include Christopher Nadeau, Peggy Christie, MontiLee Stormer, and Michael Cieslak.

The event is open to the public and there is no admission charge.  It takes place Saturday, December 11 from 2:00pm – 4:00pm at the Detroit Public Library – Main Branch, Old Fine Arts, Third Floor, 5201 Woodward Avenue Detroit , MI.
(Source)
The poster looks a little something like this: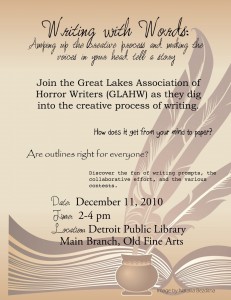 Hat tip to CW50 for the write-up on our seminar this weekend at the DPL.
Listen to different writers discuss their personal creative processes, pick up some tips – and you never know, we may just learn from  each other. 
We hope to see you there!