So, beneath my black little heart lies a smaller heart that has a love for yarn crafts.
Except I do the occasional project for others. I've made hats and vests and sweaters, but this past week I had the opportunity to help some darling little girls dress their creepy little dolls.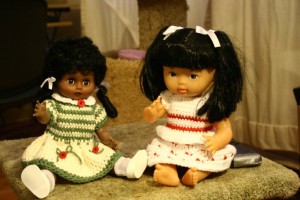 My company does it for a charity outreach, and I do love doing it, but the dolls  …
Anyway, I found some cute little outfits online and modified them for 13″ dolls.
I had to make the Asian doll underpants because she was butt naked, true story.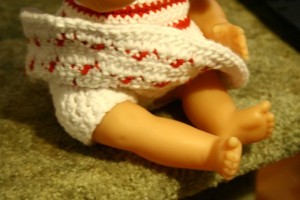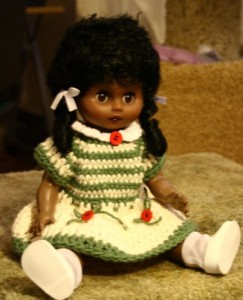 I do have a story about these dolls.
These dolls were due in to my workplace on Friday. Friday morning about ten minutes after I should have been speeding across 12 Mile Road, I went to gather the lovely ladies only to discover my Loki had marked one with the partially digested contents of his stomach. He had declared the Asian lass his own and tried to feed it like a baby bird.
Maybe. I dunno, I was too grossed out to really think about it. I did scold the dolls for getting their  new dresses dirty. It made me feel better, if very late.
Since I couldn't take a doll covered in cat vomit into work and I didn't want to split up the pair by only turning in one, I told my sob story to the receptionist and promised to have them both on Monday. Soak, lightly scrub, pray.
Last night I put the dolls into a paper bag and hung the bag on the door so I wouldn't forget them. I have a terrible short-term memory and the only other way to not have left them at home would have been to drive them to work and put them on my desk that very moment.
This  morning I awoke to discover the bag torn, the darker of the Twins on the floor doing her best impression of Downward Facing Dog, and Red Dotty was missing. She'd been abducted to the Cat Tower, Loki's secret hideaway and her crocheted shoes were missing.
She wasn't at the top of the Tower, but on the middle level, as if Loki tried to cram her through the little hole he hasn't been able to fit through in years.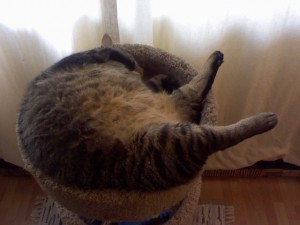 I told Loki to tell his baby goodbye, and he gave me a look that suggested he'd never stop looking for her until I gave him a treat.
I hope they give her a good home where she can get the therapy she needs. I don't know if there's a doll/cat version of Stockholm Syndrome, but I can see that doll making inappropriate attachments to gray and black throw pillows.
I still haven't found her shoes.
Loki meanwhile, will move on. He always does.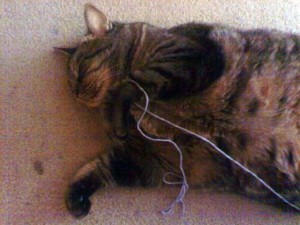 G'night.