This weekend was a little crazy as far as weekends go. My sister was in town for her birthday, so there was a bacchanalia of revelry, plus my writing group attended a Convention, which means we were obnoxious to everyone around us.
It was awesome.
While today we had Happy Birthday/See You Soon lunch or my sister, I did take the time to make a quick bento to tide me over until the late lunch.
Steamed brussels sprouts, leftover spinach and artichoke dip (from Mr B's),  sauteed asparagus and baby bella mushrooms, grapefruit, yellow papers, cucumber.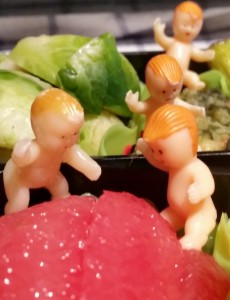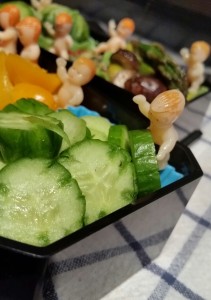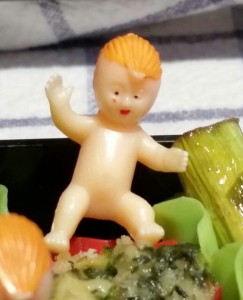 What the what?
What am I doing?
For those just joining, this is my challenge for the next 40 days (Ash Wednesday until Easter). I document these (M-F) days leading up by making healthy lunches every day. You'll know what day we're on by how many Plastic Babies are present.