50° this week which means snow melt, mud slick, and outdoor running!
I have missed outdoor running. There is something completely uninspired about treadmills; even with headphones, the droning of the belt and knowing damn well the miles ticking off on the machine don't match the accelerometer on my phone, running feels like work.
Outside, though…
Outside smells like trees and feels like life. Jumping over piles of slush, running through three inches of water, getting splashed by passing cars, wondering if I'm going to make it home before my music runs out, all of it while breathing in the beginnings of Spring – I missed it so much.
And I was slower than my music by about 10 seconds.
I won't be today.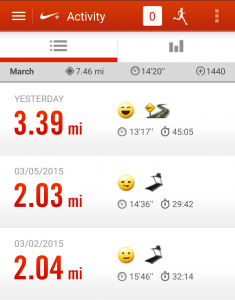 While I'm adjusting to the time change my brain is kicking out ideas, so many that I'm writing down entire synopses on sticky notes to be fleshed out later. It's a little overwhelming, and not a little irritating as my discipline comes into question. I spend all Winter holed up, hibernating inside and now that the weather turns and I can spend more time outside all I want to do is create new people and put them into dangerous and fatal situations.
After my run, of course.
Lunch:
Rice, brussels sprouts, breaded shrimp, quail eggs, sweet peppers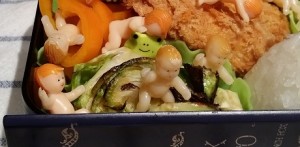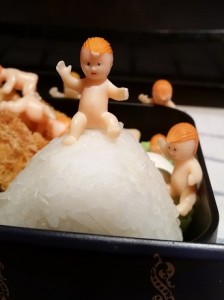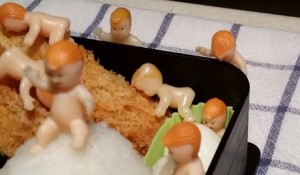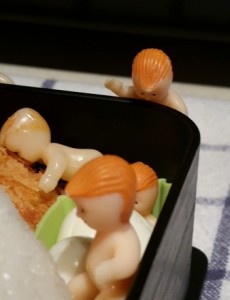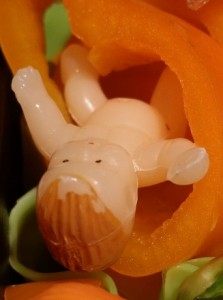 What am I doing?
For those just joining, this is my challenge for the next 40 days (Ash Wednesday until Easter). I document these (M-F) days leading up by making healthy lunches every day. You'll know what day we're on by how many Plastic Babies are present.
You can also follow me on Instagram and tumblr.
This post is part of the thread: #40DaysofBento – an ongoing story on this site. View the thread timeline for more context on this post.