Here is a lo-res version of a caricature I had done by the talented Amber Guffey at last night's Monster Mash For Literacy Bash.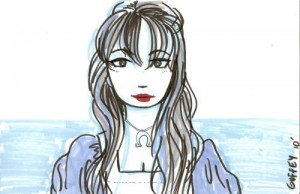 We'll have pics and everything up in a few days. Tonight we read at AJ's Cafe in Ferndale, and while it wasn't my best performance, it's always nice to meet new people. We'll have video of that as well.
Heading to bed now because I've got a busy work week ahead of me.