Official Casting Announcement for "Love Labored Lost" (working title)
I did not forget to do this several weeks ago. I just neglected to remember in a timely fashion.  Please find below your Cast and Crew:
Oryan Landa – Guy
Lara Shah – Judy*
Steven Mitchell – Ben
Peggy Schott  – Elizabeth
Andrew Moher – Todd
Samuel French – Joe
Dan Nelson – Phil
Kathi McAdoo – Auntie
(Let the academic character nit-picking begin!)
Crew (thus far):
Assistant Directors: (1st) Sheree Ross, (2nd) Matthew Paris
Sound: Frank Papa III
Prop Master: Michele McGraw
Set Design: Mia Rangel
Lighting and Additional Bodies: Greg DeBlieux
Camera Operator: Josh Newton
Office Production: Meredi Wagner-Hoehn
Produced by: Looknow Productions in cahoots with littleblackduck
Executive Producer: Carlos Samudio
Written and Directed: MontiLee Stormer – that's me!
Assistant Location Scout: Mariposa Stormer
Based on the short story "I Do This Because I Love You", appears in Bound #1, published as a graphic story by Hopper Comics, 2006.
Production begins June 2013.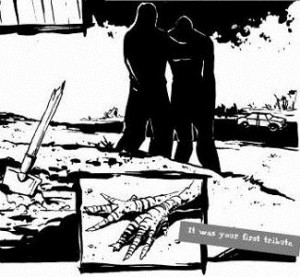 *Originally Selena Samaripa