This would normally be where I post that I'll doing NaNoWriMo and I'm super gung-ho to complete a(nother) novel and maybe even post some ridiculous first jump stats of 2,500 words or something.
But not this month.
I know I can write novels – I've got three in progress. I know I can write every day, so this month's challenge isn't about words or fingers on keys.
My last run was in August, the Cruise in Shoes in Royal Oak. I did an okay 5K time (37:17) and I'd even started looking at other area 5K to run. Then life happened and the time I was setting aside for running I spent on completing other projects, like writing, formatting a few anthologies and outstanding yarn crafts. I did a few days here and there, but nothing special.
I fell off the wagon and into a bowl of chocolate cherry cordial ice cream, a carrot cake, some Little Debbie Swiss Rolls and my sister's Mac and Cheese. I'm carrying a little more weight than I'm comfortable and it's time to get it gone. I love running in the cool weather, and because it'll start getting dark about 2pm I'll rearrange the running for the morning. With the motivation and the enthusiasm, I just need a goal.
50 Miles.
That's what I want to do this month. While my fellow wordsmiths are racing towards 50,000 words, I'll be racing towards 50 Miles. Not a lot for some of my more experienced running friends, but this is me, and I need to start small. Supplementing this will be my new fitness app, the (7 Minute) Superhero Workout. Running for me isn't enough to tone – I need to move my body and do crunches and stretch, so why not save the world while I'm at it. I'm rewarding myself with a Runner 5 long-sleeve t-shirt in December.
#clothinggoals
If you'd like to virtually run with me, we can be friends on Nike+ Running app. I'm not hard to fine – I'm me after all.
Good luck to all of us, whether running or writing!
We all start somewhere. This is where I start today: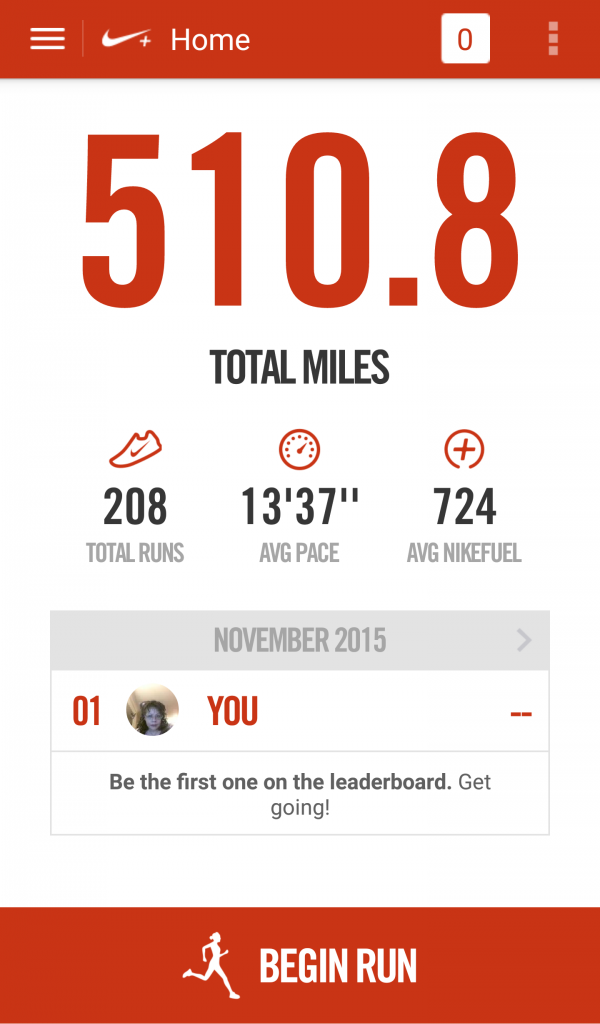 I won't be following this super closely, as I'll likely be running four days a week and November is only five weeks by a few days, but it'll be a guide in case I get off track (from Active.com):
First week: 2.6-mile run, 2.7-mile run 3.7-mile run (total: 9 miles)
Second week: 2.3-mile run, 2.6-mile run, 3-mile run, 4-mile run (total: 11.9 miles)
Third week: 2.3-mile run, 2.6-mile run, 2.3-mile run, 5-mile run (total: 12.2 miles)
Fourth week: 3.6-mile run, 2.6-mile run, 3.7-mile run, 2.6-mile run, (total: 12.5 miles)
Fifth week: 2.6-mile run, 5-mile run (total: 7.6 miles)
Good luck!
This post is part of the thread: 50 Miles in 30 Days – an ongoing story on this site. View the thread timeline for more context on this post.