little black book project notes from the road
Dispatches from the road. As the little black books traverse the US, I've asked the journalists to send along a note and a few pics highlighting the project.
Team Narwhal (Fin):
"Welp, I wasn't sure going into this I was going to have anything to write, or that I'd have time. I suffer from chronic daVinci Syndrome (look it up!) and sure enough, found myself struggling to get it done every day. As I've known for decades, however, an external deadline always forces me to come through in the end, and I did! I'd totally do it again!"
Team Narwhal (Horn):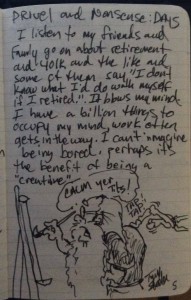 Team Raven (Tail)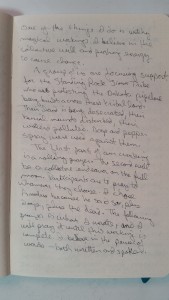 "I was excited to get the book. I started off the week in pure whimsy, moved on to a project I was working on, added in a random thought or two, then ended with a haiku for a friend. I was surprised I filled 8 pages. It was fun and I definitely would do it again. I'm glad there is a second book because I didn't draw anything and I had thought I would. Team Raven!!"
"I enjoyed my week writing in the journal. I sometimes feel as if writing like that is a lost art and doing this project somehow helped me find my self again. I don't always carry thing through but a week is the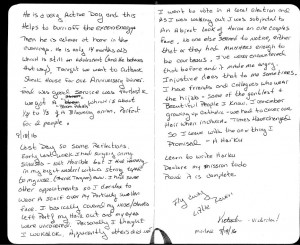 perfect amount of time for me to jot my thoughts and feelings. I am getting a bigger kick out of it as we can track the books through Facebook. It gives it that fun factor. Would I do it again – yes – I did it once a few years back and enjoyed it then and am enjoying all the interplay now. My writing is sometimes disjointed because I think in more of a scientific sense and sometimes forget all the proper writing techniques. Hopefully I get my point across.
Thank you for allowing me to be a part of this."
Team Fox (Head)
"I loved this project and would do it again. The first day I wrote in the journal was 9/11 so it was a bit emotionally charged. The other days were creative and fun!"