So I've been at the bento making for well over a month, and I'm not where near  bored with my lunch options.
One question I get asked a lot (other than "why plastic babies") is where I get the neato supplies.  Frankly, all over. When I shop for things to put the food in, I look for compact, durable and kawaii (inside, it satisfied my inner 12-year old)!
Here you are, Kristeen! Hope this information helps.
Bento Box: ChocoCat lunch box, square, 700mL
I bought this box at the Sanrio Store in Great Lakes Crossing maybe three years ago. They don't make this box anymore, but there are lots of darling boxes available. Personally, for my appetite and weight loss goals, I prefer the children's boxes.
Grownup boxes, or at least less-Sanrio boxes can be purchased at Japanese Grocers (in Michigan we have Mirai http://www.mirai-usa.com/in Novi and Noble Fish in Clawson).
Great online places:
Then there's the stuff.  Folks, stuff is easy. For food dividers I use cupcake cups, either laminated paper or silicone.  Silicone cups can be used for drippy foods (sautéed spinach) as well as foods that you might want to reheat in a toaster oven (previously fried foods like dumplings).  See those wicked cool plastic bottles – for soy sauce! Fill as needed, and for me that's not very often. That one little bottle has lasted me nearly a week.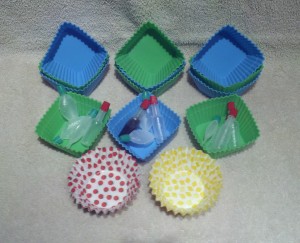 Silicone cups can be found practically anywhere that sells baking supplies my round and square ones I bought at Michaels and Jo-Ann Crafts, and they're standard size. I know fancy-schmancy places like Williams-Sonoma and Sur La Table sell larger 3 oz cups, but I don't think I need to eat three ounces of anything at lunch. The waxed paper and metal cups and party picks I found at my local Japanese grocer.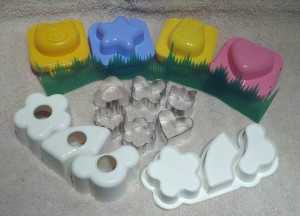 I love the egg molds I picked up from Williams Sonoma at the Somerset Collection,  but since I switched to quail eggs, I don't enjoy the extra-large eggs like I used to. The anti-microbial grass is great for those who don't like their food to touch, and when I want my rice to do more than fill a cup I pop them into a mold (both from Noble Fish). The mini-cutters I used for cheese an kiwi fruit, and I picked those up at Jo-Ann Crafts.
Finally, cost. Your biggest expense might be the bento box itself, and honestly, this is what's going to hold your food until you get around to eating it. I probably spent about $12 on mine, and it was bought at an outlet mall in a store for kids. I'm perfectly okay with that, but you may be more health conscious and want something that insulates or holds soup or is two-tiered if you're really paranoid about your food touching. Let's see if I can break down the cost.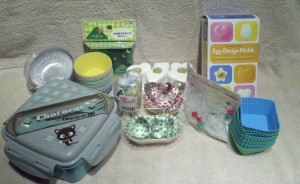 Bento Box $12
Egg Mold $10
Square Silicone Cup $8.00 (for both of these, I had a coupon from my Android app)
Round Silicone Cups $8.00 (link for the other app)
Onigiri Molds $5.00
Metal Cupcake  $3.59
Party Picks $2.59
Waxed Paper Cups $2.59
Grass Separators $1.59
Soy Bottles $1.59
So yeah, really inexpensive start up, and then all that's left to buy weekly are the fresh fruits and vegetables, with a few prepared dumplings and such. The money saved alone is worth the extra 30 minutes in the morning.
And there you go, Kristeen.