Sure I can. When I tried to skip away from Facebook I wanted to do it quietly, because I really dislike drama. Posts where people dramatically throw their hand to their forehead before announcing their trek into the unknown irk me.
I'm not leaving now.
No, no – don't try and stop me and don't ask why.
… I said don't try and stop me and don't ask why.
Why isn't anyone stopping me?
And 40 coerced begging posts later they're gone for like two days.
I'm right here. It's a brief sabbatical, and I'm not trekking into the Brazilian Amazon to study primitive tribes in their natural habitat. I'm just disconnecting from Facebook (apparently the Hive Mind as it were) for a few weeks so I can get some things done. I didn't realize how often I was on it, looking for updates or notifications until last night as I was finishing up the eleventy billion messages people were sending wondering why I'd unfriended them. I even took the extra step of removing it from my phone so I wouldn't sneak peek. The evening was restful and I could carry on a conversation without the incessant whistle of my phone letting me know someone had posted yet another ancient meme or complained about another soul-crushing setback (usually involving shoes or what they can't eat – gobless diets and resolutions).
When I awoke this morning, I reached for my phone, and discovered a few overnight emails, mostly mailing lists, a text from my bank confirming my job had made good on paying me, but no notifications involving drunk texts, inappropriate photos, or the most hated of all photo memes, a sad or inspirational photo overlaid with smaltzy text and in all caps: LIKE AND SHARE = LOVE, IGNORE AND SCROLL PAST =DOUCHEBAG.
I hate those and the pity I feel for people who feel compelled to LIKE AND SHARE tastes a little like gone over strawberries.
So today will be my first full Face-cation, as someone put it. I can be productive at work without getting drawn into some ridiculous argument, without scrolling past posts missing grammar, punctuation, and caps, and I've probably seen my last Tard mem for a while.
Here's today's lunch made by my husband. Note the artistic flair, the bright colors. He's really getting good at this:
Upper berth: Blackberries, sliced Grape Tomatoes, Raspberries. Chickie holds the meds.
Lower berth: steamed Green Beans and Crab Shumai (dumplings).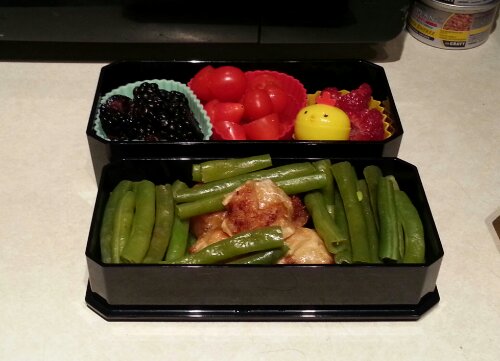 Premature post update:
I wanted to mention that because I'm not stopping every five minutes to check Facebook some something interesting, I've had some pretty incredible dreams and story ideas. This blogging is good for me and ridding my brain of mundane stuff like this without worrying about who's reading it really takes the pressure off.