It's Friday, and I'm excited for a number of reasons.
1 – the Great Lakes Comic Con is tonight and tomorrow and it's the first convention of the season for my and my homies, GLAHW. I haven't decided what I'm wearing yet but it will probably be black and red, because I know that stuff is clean.
2 – My seeestra is also coming into town for her Birthday Weekend! Stuff will be done, drinks will be had and we'll pour her back onto a plan on Monday with no memory of her weekend or how she got the tattoo of The Rock on her left boob.
3 – The weekend break from bento making, and while I have no real days to sleep in this weekend, my mind is off of tamagoyaki and shumai. I love making my little lunches, and they're so tasty and filling, but getting up extra early to make sure I have enough time to screw around *and* make my lunch means turning in the night before a little early. Sorry, Letterman.
4 – I've blogged every day since Tuesday, when I was briefly kicked off of Facebook, and it feels really good. It's like my version of Morning Pages – what I'm writing about isn't ground breaking or even interesting to most people, but it feels good to talk about anything that isn't that dress or runaway llamas.
Rice, sauteed spinach, shrimp shumai (dumplings to you and me), sliced red and yellow peppers.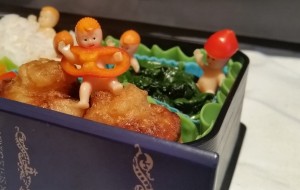 What the what?
What am I doing?
For those just joining, this is my challenge for the next 40 days (Ash Wednesday until Easter). I document these (M-F) days leading up by making healthy lunches every day. You'll know what day we're on by how many Plastic Babies are present.
You can also follow me on Instagram and tumblr.
This post is part of the thread: #40DaysofBento – an ongoing story on this site. View the thread timeline for more context on this post.