I could complain about my slowish time on the treadmill (14'36″/mile), or I could make sure when I get on it this weekend, I inch closer to my personal best (12'30″/mile) be back in fighting shape by May where I beat my best altogether.
I could sadly reminiscence about all the times I was rejected by magazines and editors – I actually was reading over my Record of Release from 1998 – 2004 and it was depressing  – or I could take those 10-15 year old stories, and make them the shiny stars I know they are and get them published.
I could be angry about an unpublished novel languishing due to someone else's fear, or I could remove the obstacle, rework it, and have it published by the end of the year.
I spend a lot of wasted time wondering how far I could be if not for trepidation or another's irrational fear of success, and not enough time remembering that I'm not living for someone else's gratification. I've given up a lot the last few years depending on other people to step up and do the right thing and (I know I keep saying it) but it has to stop. Being "nice" and "understanding" and "patient" isn't getting me anywhere so we switch to Plan B.
A few people aren't going to like Plan B, but the important better part is I don't care that they aren't going to like it.
Lunch:
Rice, asparagus, salmon teriyaki, sweet peppers, strawberries, cucumbers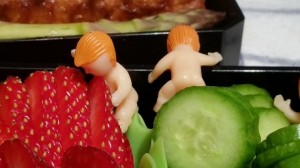 What the what?
What am I doing?
For those just joining, this is my challenge for the next 40 days (Ash Wednesday until Easter). I document these (M-F) days leading up by making healthy lunches every day. You'll know what day we're on by how many Plastic Babies are present.
You can also follow me on Instagram and tumblr.
This post is part of the thread: #40DaysofBento – an ongoing story on this site. View the thread timeline for more context on this post.