Lunch almost didn't happen today.
I stayed up late finishing a crochet project, at least late enough to watch the news and part of Letterman, and turned in at the same time I usually do, but this morning the motivation to get out of bed and put clothes on for work was not there.
The alarm goes off at 6:15 am, which should give me plenty of time to pull together lunch, shower, pretend my hair is presentable, and still be ten minutes late to work.
It wasn't happening this morning.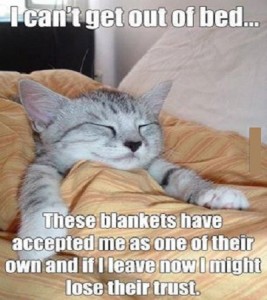 Instead it was nearly 7 before I put my feet on the floor to give Pumpkin his few minutes. This is a thing now – Pumpkin Time for scritches and rubs. I am lower than dog crap at any other point during the day, but first thing in the morning, I am the sum of his world. Then feed the boys, make coffee and star with blank horror at the contents of the refrigerator.
The pantry is sparse for lunches which means shopping after work. I don't know what I think I want for the rest of the week, but there will likely be rice and meat and probably a fish.
Oh, and veggies.
There will likely be pizza for dinner.
Lunch:
Udon noodles, marinated beef, grilled brussels sprouts, diced sweet yellow peppers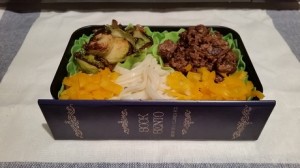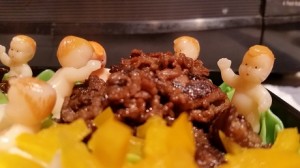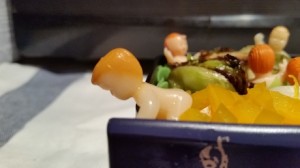 What the what?
What am I doing?
For those just joining, this is my challenge for the next 40 days (Ash Wednesday until Easter). I document these (M-F) days leading up by making healthy lunches every day. You'll know what day we're on by how many Plastic Babies are present.